The weather has been very windy this week.  It's kept a lot of the small boats home and even some of the big boats.  We've been fishing every day though and let me tell you, the fishing (and the catching) has been great!  Dolphin, tuna, sailfish and more are biting.  The reason?  the strong easterly wind.  A hard east wind gets the fish chewing.  It blows the seaweed and debris in closer to the shore and with it, the dolphin.  If you can handle the waves, these are the conditions we wait for all year for the really good fishing.  It also helps that many boats haven't been fishing the past few days, making less competition for the fish.
Dolphin aren't the only fish that's on the menu.  Sailfish, our most sought after gamefish, are biting with a voracious appetite this week.  October is one of the best months of the year for sailfish and the strong east winds really get them hungry.  We've been catching quite a few sailfish lately by trolling, but our best technique for catching sailfish is by kite fishing.  Kite fishing is a technique that uses kites to suspend the baits on the top of the water where the baits have to struggle to keep their heads underwater so they can breath.  These struggles put out vibrations that predator fish pick up on and draw them in.  The one constant that you need to go kite fishing is sufficient wind.  A good strong and steady wind is necessary to  keep the kites and baits up.  Couple the strong easterly wind (best sailfish conditions) with an ability to go kite fishing and get ready for some great sailfishing!
While sailfish and dolphin are the main catches on our deep sea fishing charters, there's a bevy of other fish biting as well.  Kingfish, barracuda, wahoo, blackfin and skipjack tuna are also biting on the reef.  These fish are biting best trolling lures around on the reef.  You never know what you might catch when you're trolling.  Wrecks are holding fish as well, but with the wind and waves as they are, trolling/kite fishing techniques are more productive. This windy weather may seem like not a good time to fish, but quite the opposite, we wait all year for these conditions. Some of our best catches of our lives happen on the windiest, roughest days.  Good luck to everyone fishing over the next week.  I'll sea ya on the water.
Capt. Andy Roydhouse
www.FishHeadquarters.com
754-214-7863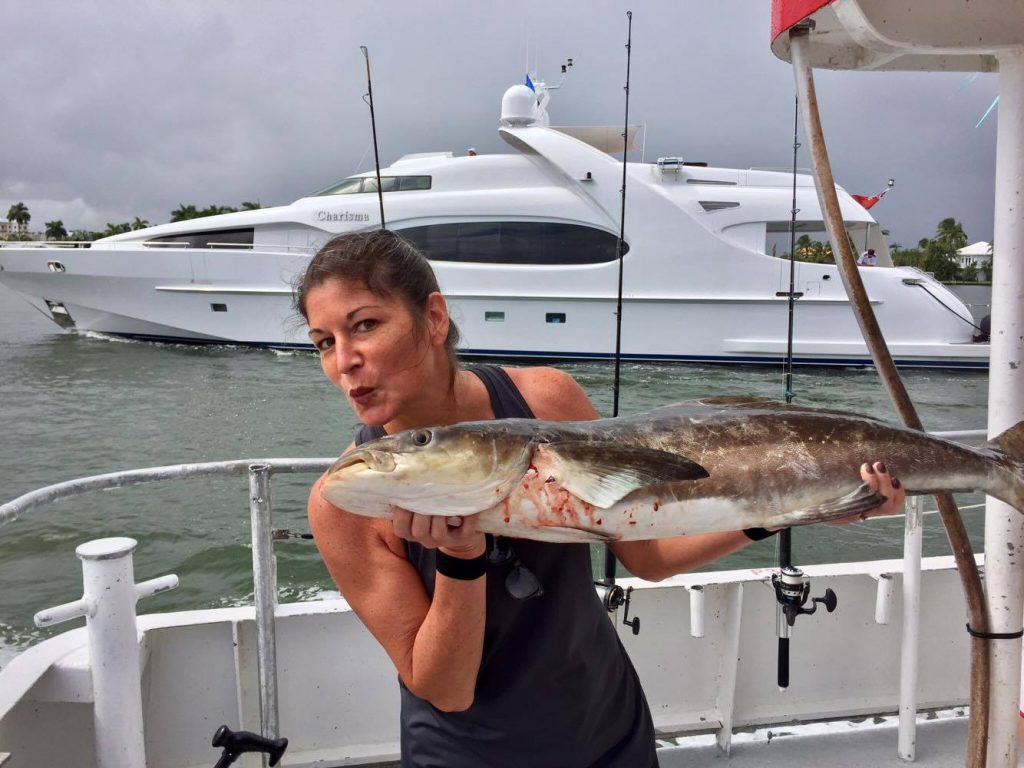 Nice cobia caught by this lucky fisher gal on our drift fishing trip