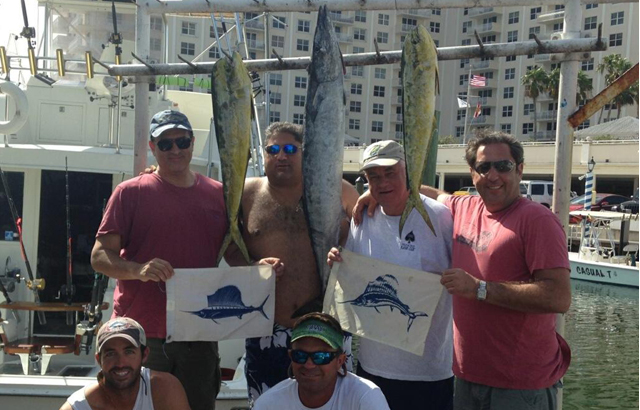 What a great trip today we had on our sportfishing charter.  The sailfishing this winter has been phenomenal and we're also getting some excellent dolphin action. Today we went kite fishing, out in 120ft of water, just mile off our coast.  This area in 100-150ft of water is known as "Sailfish Alley" in Fort Lauderdale.  It's where the majority of the sailfish swim through, just outside the reef and on the inner edge of the Gulfstream.  We had our baitwell stocked with fresh and frisky goggle eyes and mullets.  We caught our first sailfish within 10 minutes of having out baits out.  We caught and released him and immediately put out the spread for another shot.
The next fish was a mahi-mahi, which ate a goggle eye on the short-left kite bait.  As we were fighting the one mahi-mahi, we noticed a second one following him in, so we pitched out a spinner and hooked into the other dolphin at the same time.  We caught both fish, threw them in the fish box and guess what we did next?  We put the kites out again for another shot.  Never leave fish to find fish, that's the first rule of fishing.  We had to sit with our baits our for almost an hour for the next bite, but it was worth it.  Another 7ft sailfish catch and release.
Well, we stuck with kite fishing for another hour without another bite, and it was getting late in the day, so we decided to finish up our trip trolling the blue water edge on the way home.  Wouldn't you know it, to finish off a spectacular day, the wire line deep bait, held deep by a 1.5 pound trolling lead, got slammed.  A big wahoo took the bait and took half the line off the spool in his initial run.  We fought him up to the boat and stuck the gaff in him.  What a way to finish the trip.  We got back, took some photos and fileted the fish.  We took the filets over to Coconuts Restaurant to cook them up and the chef did a great job.  We had some great cocktails and the Catch of the Day, literally!