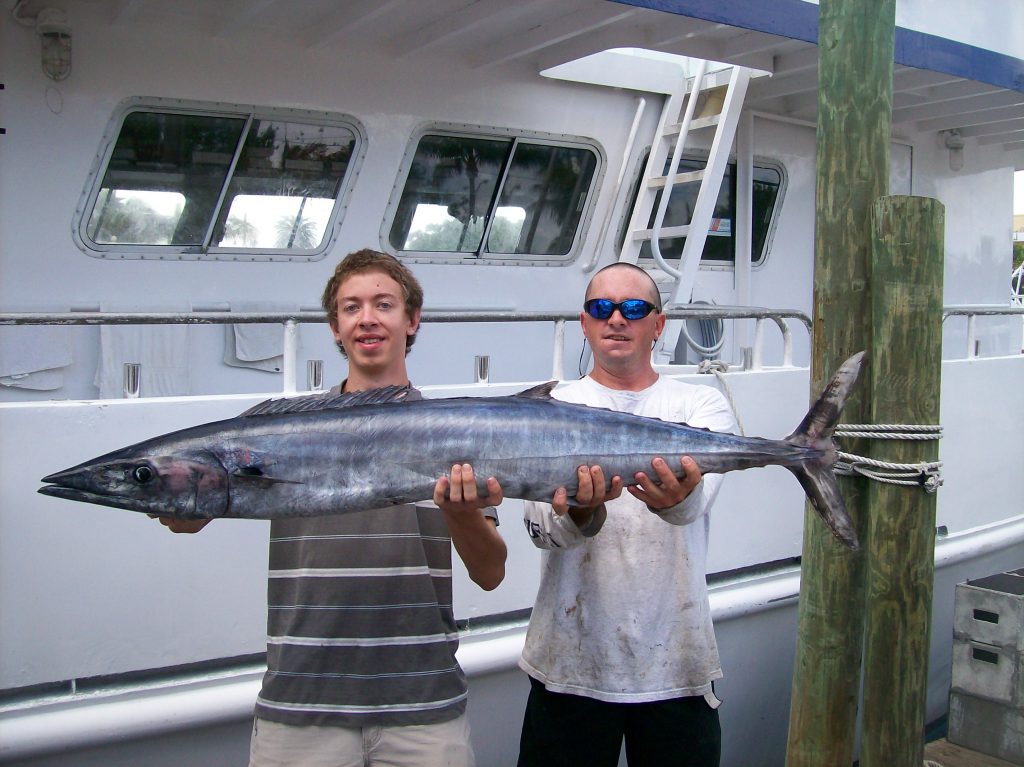 It was a good couple of days out on the water, fishing off Fort Lauderdale this week.  The weatherman scared everyone from going out fishing, but the weather wasn't all the bad out there.  It was overcast and a bit rainy, but we went out anyway and managed to stay dry the whole trip.  We just stayed away from any rainstorms we saw out there.  The ocean was little choppy too, but it was plenty fishable.  And the fish were biting good.  I love overcast days for fishing, the fish really seem to turn on.  We had a drift fishing charter with Tom, one of the guys that fishes with us a lot.  He owns a bar here in Fort Lauderdale and he wanted to take some of his regulars out fishing for the day.  He chartered the boat and we did a bit of trolling and then some drifting with his group.  It went pretty good.
We got out there bright and early, leaving at 7AM.  We started the trip off trolling around the reef and then a little bit deeper.  We caught some kings and bonitos on the reef.  Offshore a bit we found some pretty looking water with some scattered weeds.  We trolled along the weedline for a few minutes and got a couple cool fish.  First was a realy nice wahoo, maybe 25 pounds.  We don't usually catch too many wahoos on the drift boats, but there have been some around the past few weeks.  After we got the baits back out, we got another cool fish, a blackfin tuna.  Just a little guy, about 6 pounds, but still a cool fish.  Blackfin that size are delicious fish and they make great sushi.  Too bad we didn't have any wasabi on the trip with us.  We finished out the trip by doing a couple drifts and we picked up a few more kings and some bonitos.  It was a good day despite the foul weather.
We got a little restless with this weather and no customers so we decided to do a little fun fishing this afternoon.  My uncle Brad was in town so we took him and my cousin Jason out fishing for some good eating fish for their freezer.  We made some drops on the shipwrecks and pulled up a ton of vermillion snappers.  Some of the vermillions we've been catching lately have been fatties.  2-3 pounders have been fairly common for us these days and we caught several nice sized ones today.  When we were bottom fishing for all the snappers, we got jumped by some decent sized dolphin fish, like 10-12 pounders.  Lucky I had a spinner ready to pitch out there to them.  We got both the dolphins and kept catching the snapper.  On one drop we came up with a huge amberjack.  The fish box was loaded and we had plenty of good eating fish for my uncle to take home so we came back in after only a couple hours.  Another successful fishing trip out of Fort Lauderdale.
I don't know if you guys have heard, but a charter boat named the Joe Cool out of Miami got chartered to take some bad guys to the Bahamas.  I guess the charter hijacked the boat and killed the crew.  Thats specualtion of coarse, but thats what it looks like happened.  I've had some people offer me a few grand to go over to the Bahamas on trips like these.  Usually its to go over there and pick someone up.  It never sounds legit though so I always refuse.  Its not worth something like this happening for a little extra cash.  We'll see how this turns out, keep up with the news.  Cya all tommorrow.