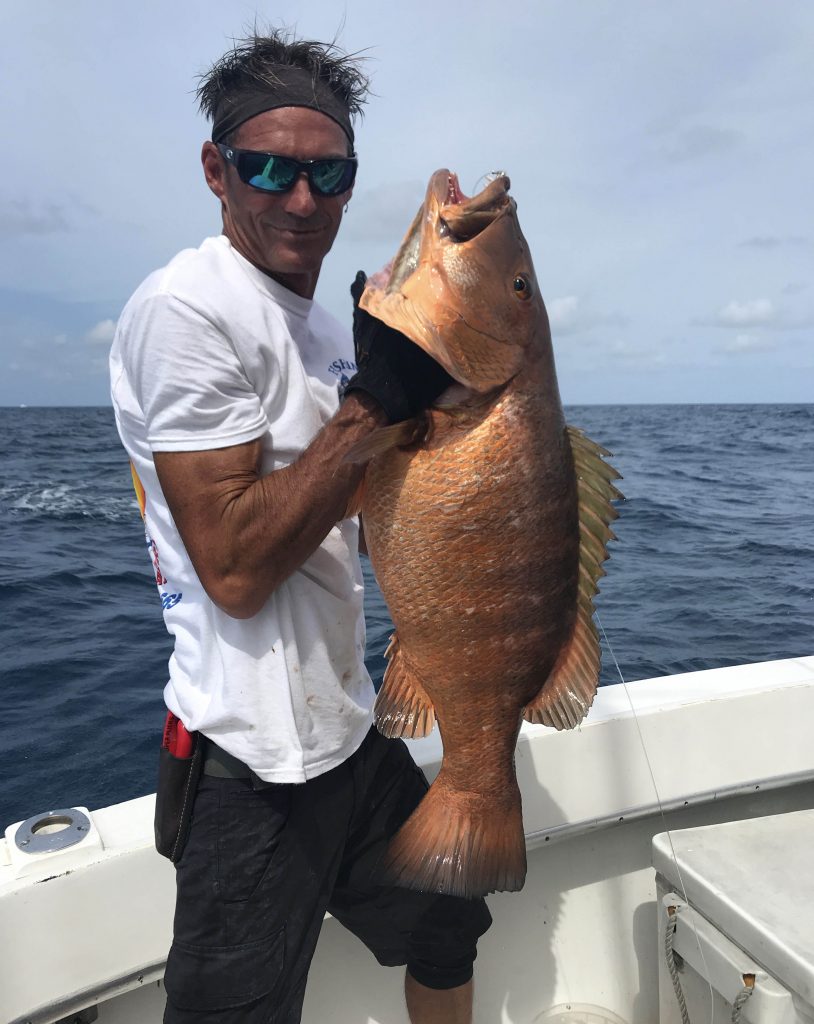 Wow!!! What an awesome day of wreck fishing. The spring is the best season of the year for bottom fishing around the wrecks. Big fish such as amberjacks, grouper, snapper, cobia and more, congregate around the wrecks to pick off the easy meals that swim around our 200-300ft deep shipwrecks. With all the increased activity around the wrecks this time of year, the fish get very, very aggressive. Yesterday we have an abnormally awesome day of wreck fishing. Read below…
We started the morning catching some kingfish and bonitos around the reef. We also caught a bunch of small bonitos that we saved in our live well to be used later in our wreck fishing endeavor. We have an extra large live well on the boat, large enough to keep 5-10 bonitos alive. Later in the trip, we went to a couple of our secret wrecks. First drop was a big amberjack. We didn't have to wait but a moment for the bite so we decided to hit it again. We only drop one bait at a time when we are wreck fishing because targeting these tiny wrecks requires you to be mobile and spin the boat around and drift. If we drop more than 1 bait, we would get tangles and it would be counter productive.
On the second drop, we got another instant bite. It was different than an amberjack this time. Thump, thump, thump. The fish was jerking in an odd manner. I immediately thought grouper. 'You got a grouper on the line this time!!', I said to the angler. When the fish got close to the surface, and we could first see the colors, the colors looked odd. It had a reddish hue. We don't see that often except for mutton snappers on the rare time we catch a mutton when deep dropping on the wreck. When the fish surfaced, I couldn't believe my eyes. It was a Cubera snapper. I've been fishing my whole life out here in Fort Lauderdale and I have only caught a handful of these, ever.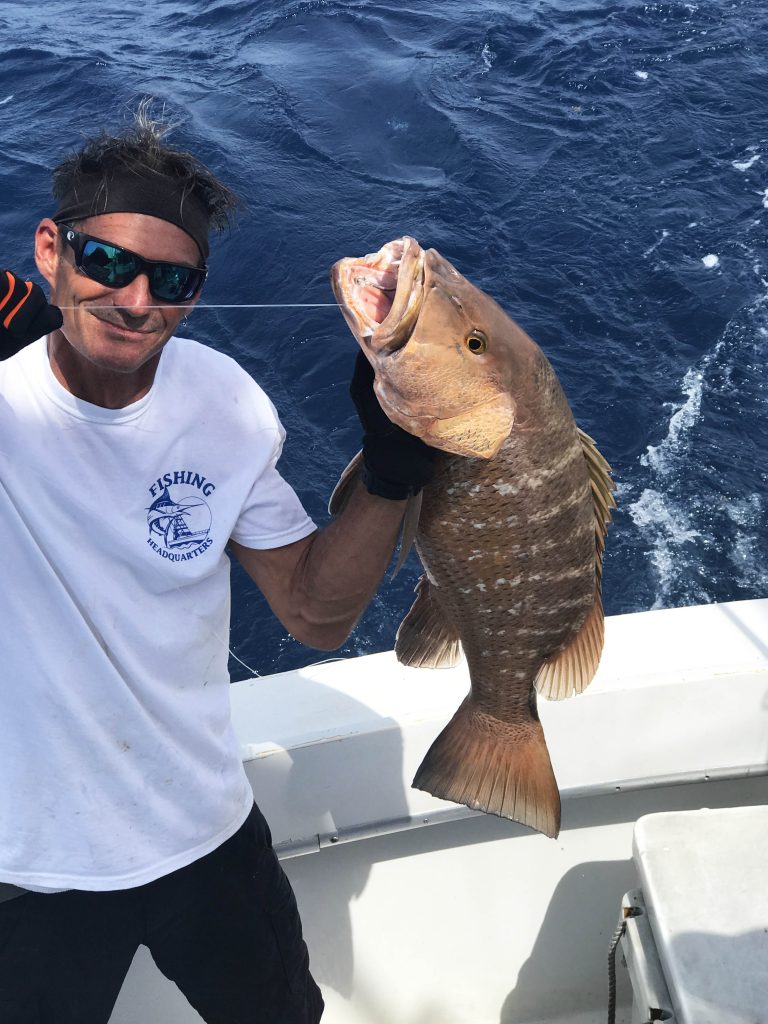 We were seriously stoked by this catch so of course, we had to do another drop. This drop also got an insta-bite as soon as the bait hit the bottom. Again, I felt thump, thump, thump. I couldn't help but scream, 'Its another one!!'. We got this fish up to the surface and we saw the bronze color of the fish. A big black grouper. This was a very lucky black grouper because they are out of season for another 20+ days. Any other time of year and it would have been a dead black grouper. We got pics of the bottom fish together and then released him. We did a few other drops at the same spot but never got another bite.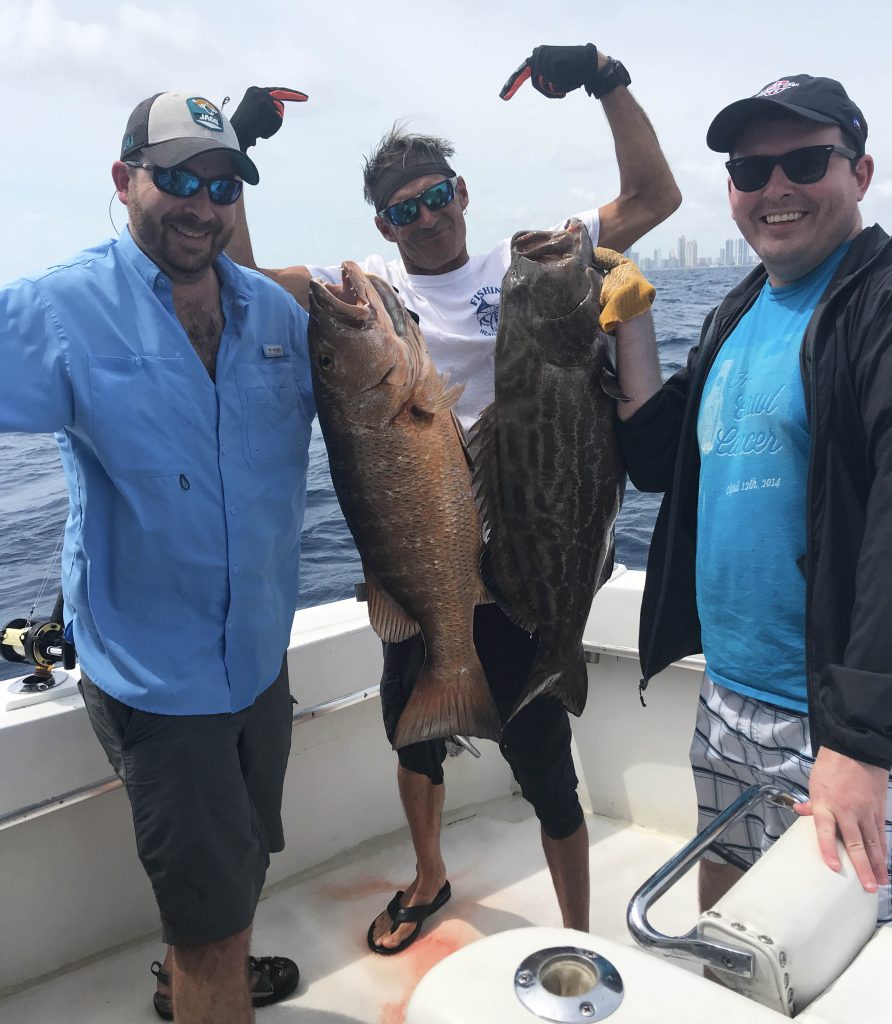 On the afternoon run, we decided to do the same thing. We had some girls on the boat doing a bachelorette party. They all came dressed in t-shirts that read, "Master Baiter". LOL, they were a fun group of gals. We loaded the well up with some small bonitos and trolled to our first spot. We decided to go to a different spot on the afternoon trip. Catching a few larger bonitos, kings and a mahi-mahi on the way, we eventually got to the wreck and did our first drop. We hooked into a big amberjack almost immediately on the first drop. I told you, these fish get very aggressive this time of year. They don't let a bait just sit there or it will get stolen by a more aggressive fish.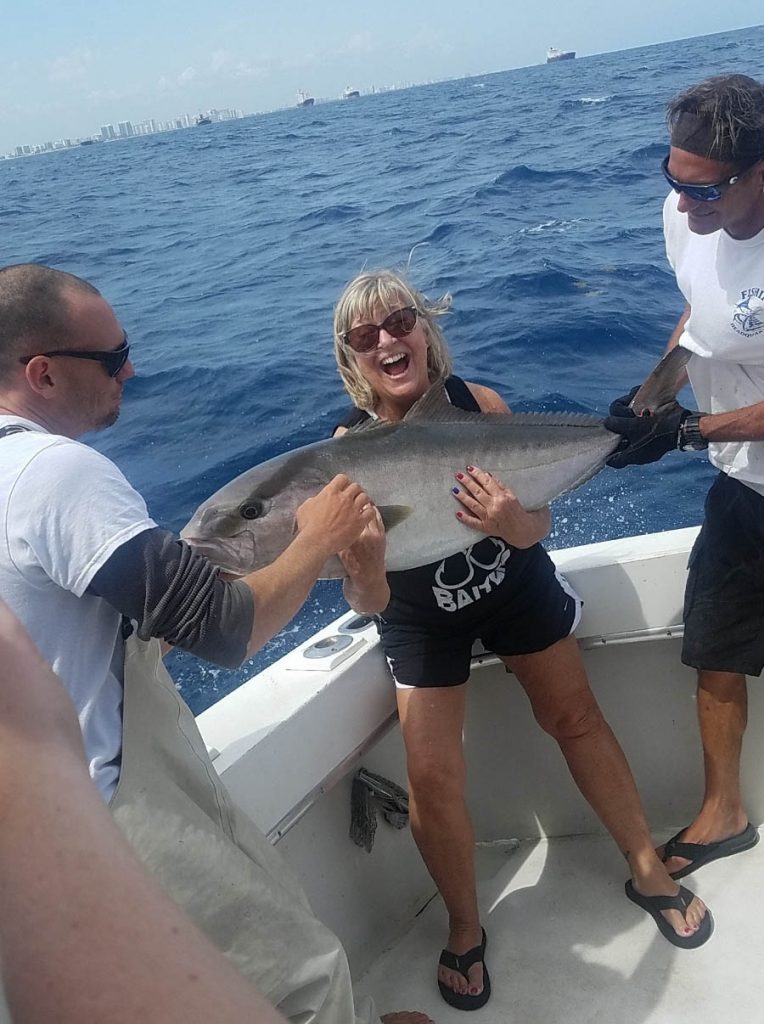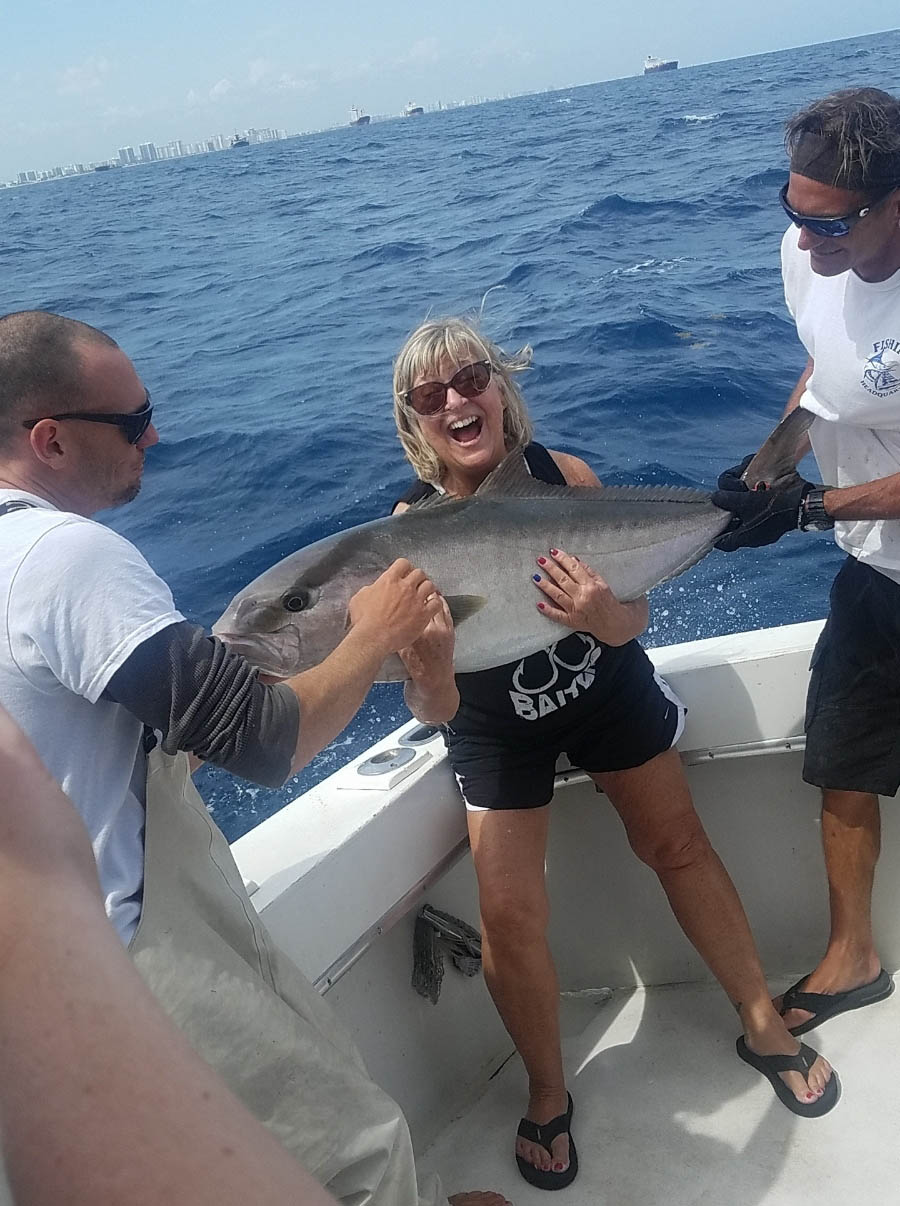 With such a quick bite, of course we would do a second drop. On the second drop, we got another instant bite. Again, I felt the THUMP, THUMP, THUMP… I would normally be confident in pre-catch calling it a grouper, but I was beginning to doubt myself today. As we reeled the fish up to the top, when the fishes color began to show, I saw the reddish hue and I couldn't help but yell, "You're not going to believe this cap'!" The fish breached the surface and sure enough, it was another Cubera Snapper, our second one of the day. From my early childhood days, ever since I caught by first one of these, I have been enthralled with these fish. We spend so many days out here snapper fishing. Snappers are generally small fish in the 1-2 pound range. We get some bigger ones sometimes, but Cubera snappers are 30-40 pounds. This one was a healthy 30 pounder. I couldn't believe we caught a second one today, it was just plain awesome.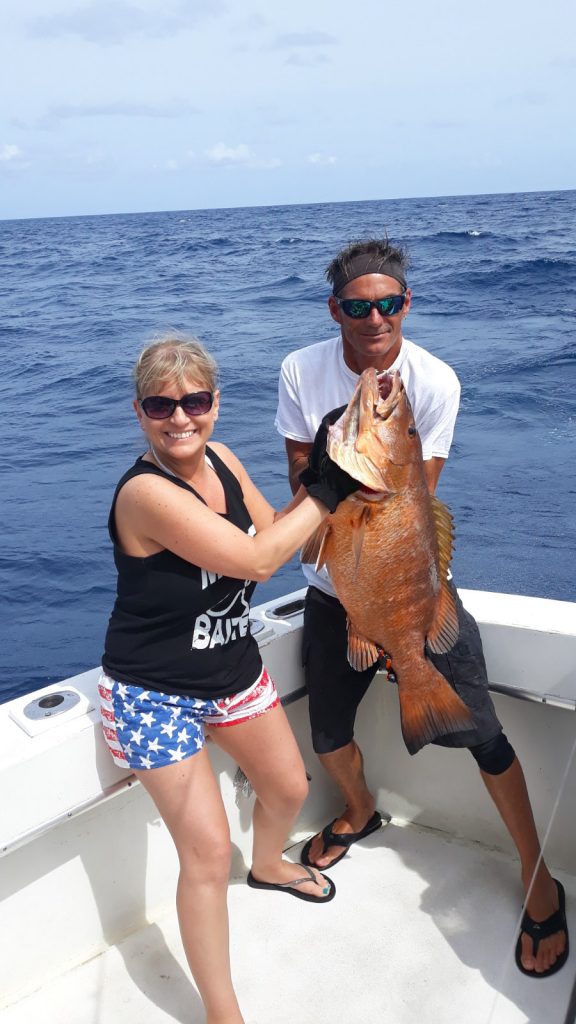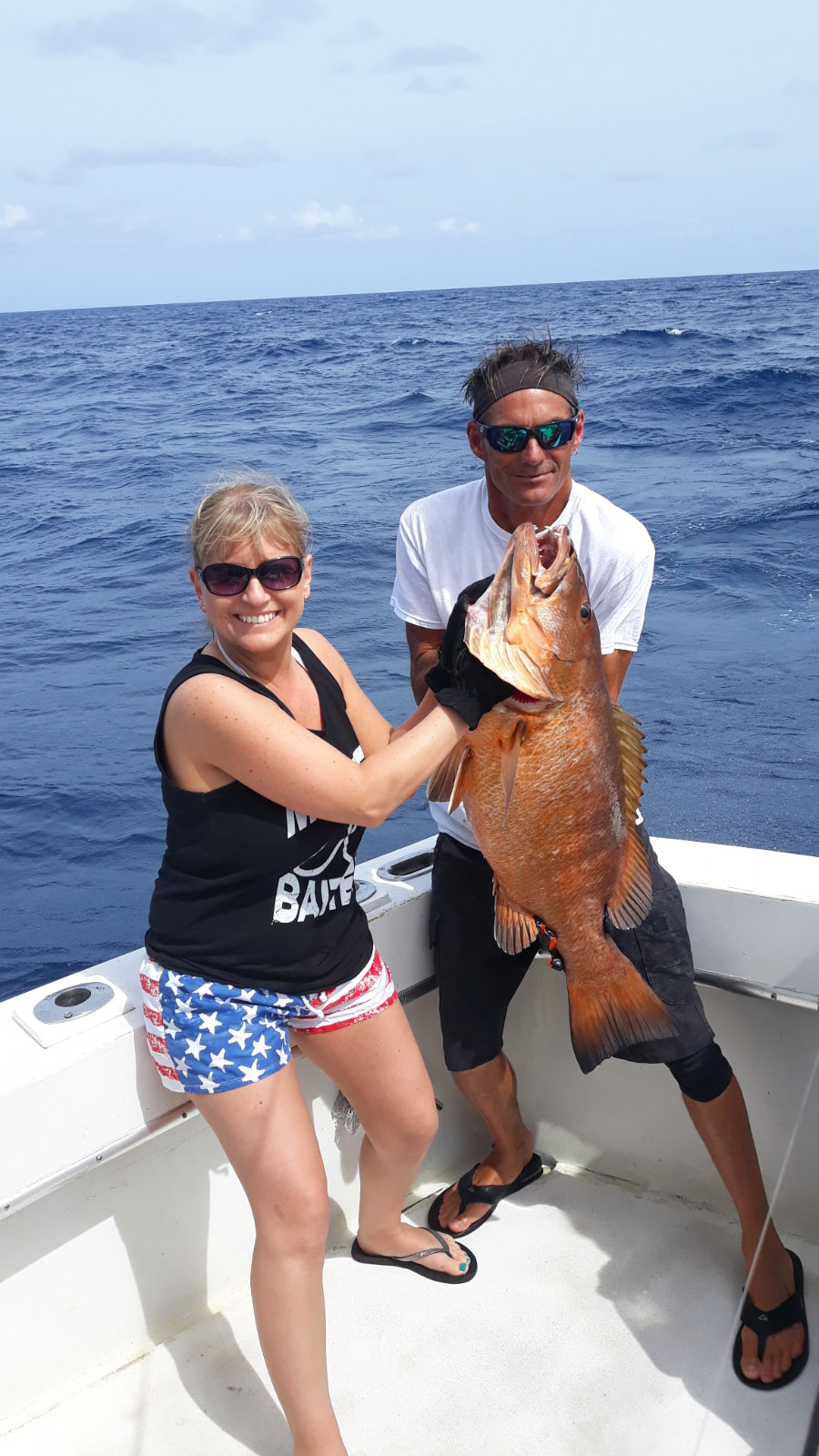 The gals were ecstatic too and we got a ton of pictures. The gals in their Master Baiter shirts was just classic. That's how the fishing is this time of year. You can catch just about anything out here. I mean, we still have slow days of fishing from time to time. But we have a lot higher percentage of fishing charters that come in with some pretty awesome catches too. Good luck to everyone fishing with us this month. I'll sea ya on the water!
Capt. Andy Roydhouse
www.FishHeadquarters.com
754-214-7863