It's been a mixed bag on the reef this week.  Tunas are biting strong on our sportfishing charters where we troll with natural feathers and rigged baits.  Snappers are biting pretty good on our drift fishing trips and night anchor fishing excursions.  We've had a few banner days this week and couple tough ones.  May and June are great months for snapper fishing, which is what we're targeting on our daily drift fishing trips.  Yellowtails are biting in decent numbers, some really, really nice mangrove snappers are around and biting this month and some respectable catches of mutton snappers too.  I would say the general rule is that the larger snappers bite during the day and the numbers of them are being caught at night.  Groupers are out there and biting too.  We're getting into quite a few of the small rock hind and strawberry groupers and a few of the larger reef groupers… reds, blacks and gags.  A lot of the groupers we catch are an inch or two short of keeper size but a few nice keepers are being caught on our drift fishing trips, especially during the day.
Sportfishing boats are catching most of their fish on the troll.  Trolling natural feathers and rigged ballyhoo is generally good for the tunas that are showing up on the reef.  If you're lucky, you may hook into a mahi-mahi or wahoo on the troll as well.  Kingfish are biting good trolling the reef too, with some bonitos mixed in.  Trolling has been the magic ticket for catching fish on our sportfishing charters.  It allows you to cover the most territory out there and try different depths and zones.  Live baiting may start working a bit better this week with the wind picking up.  Last week, we had very light winds if any.  The past couple days we've had a stiff breeze.  This may make for good kite fishing conditions.
Wrecks are holding some nice fish.  The jacks are very aggressive this time of year.  Big amberjacks and almaco jacks are congregated around the wrecks this time of year.  They are very aggressive, especially with live baits, and they get big, very big and they are strong.  Jacks are one of our best gamefish that will give an angler an awesome fight, even on heavy tackle.  Also, there are some very big groupers around the wrecks this time of year and you never know when one of them is going to bite.  Cobias too, are a possibility, another big game fish we catch around the shipwrecks.  And sharks, you never know what you may catch around our 200-300ft deep shipwrecks.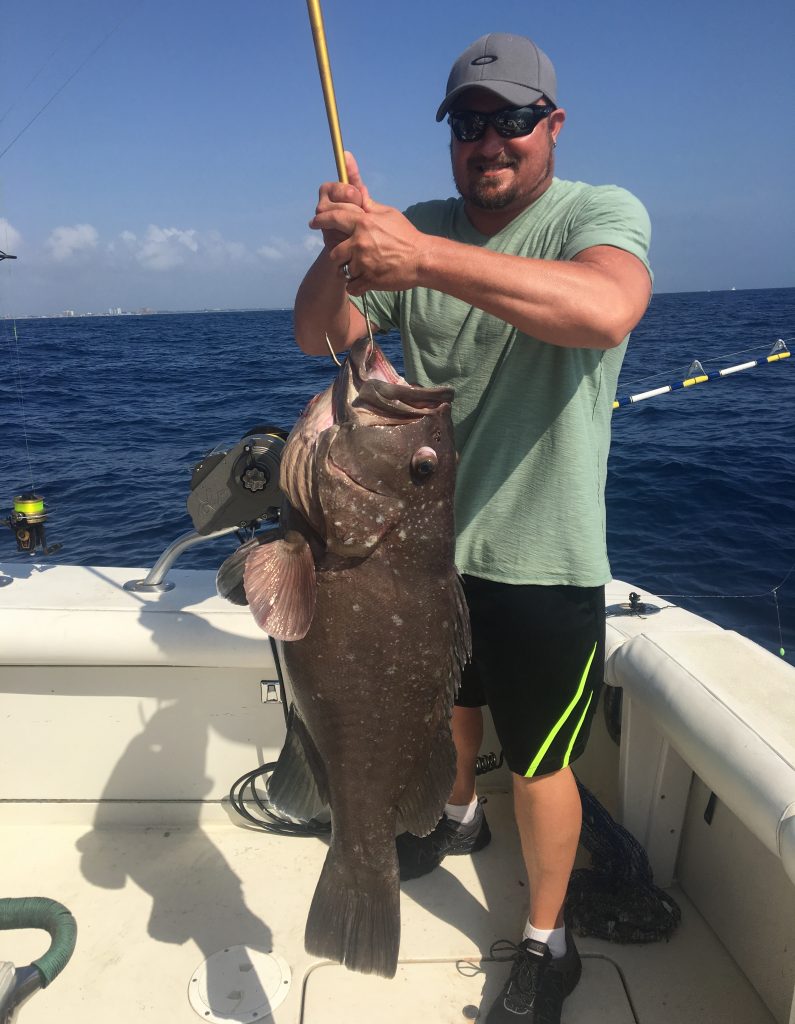 Nice warsaw grouper caught deep dropping on our deep shipwrecks.
There's a good variety biting on our Fort Lauderdale fishing trips.  The months of May and June have a good majority of good trips with good action and some big fish.   Summer months are good, but this is the end of the best time of year to catch our biggest game fish.  Come out on a fishing charter with us and let us show you why we are the best fishermen in Fort Lauderdale.  Let's go fishing!
Capt. Andy Roydhouse
www.FishHeadquarters.com
754-214-7863